Poor air quality can lead to poor health.
Pollutants in your home's air can cause dizziness, headaches, nasal congestion and fatigue, plus they can aggravate allergies and asthma.
Causes of indoor air quality problems
Pollutants can come from many different sources inside and outside the home. For instance, furnishings, such as upholstery may release chemicals into the air. These pollutants circulate through ductwork, entering every room and living space. And if ventilation is inadequate, the pollutants multiply. High temperature and humidity also increase concentrations of some pollutants.
No home is immune to indoor air quality (IAQ) problems. All homes can contain elevated concentrations of dust, dirt and chemicals. These impurities may not be visible to the naked eye. Homes can also be breeding grounds for mold and mildew.
According to the Environmental Protection Agency, the air inside the average home is up to five times more polluted than the air outside.*
Results from in-home air tests across North America support this government finding. Nearly every home (96%)** had at least one IAQ problem:
86% had high levels of particles and bioaerosols like dust, pollen and viruses
71% were filled with odors and potentially harmful chemicals and gases
46% had problems with temperature and humidity
*Source: www.epa.gov/iaq, June 27, 20001
**Source: 20004 field study – 10,254 tests
Call us today and ask about our free estimates for :
Duct Cleaning
Air Filters
UV Light Purifiers
Duct Modifications and
Maintenance Plans.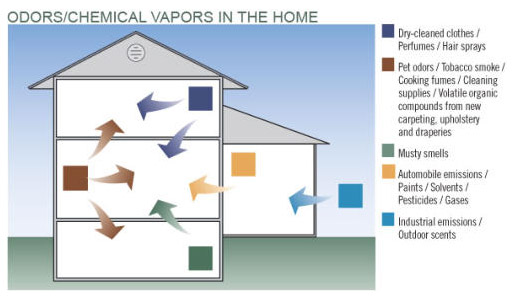 PureAir TM Purification System
Total home comfort and peace of mind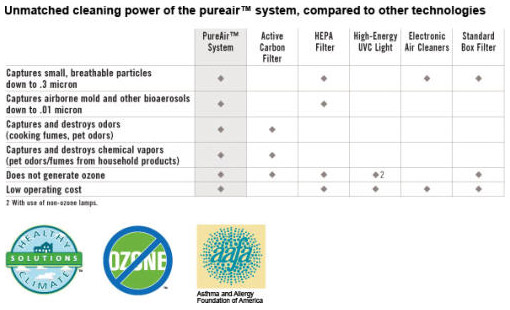 The Mayo Clinic has found that air cleaners attached to whole-house systems are generally more effective than freestanding air cleaners. An optimal solution for central HVAC systems, the PureAir™ Air Purification System installs easily on the furnace or air handler (return air side), where a filter would typically be placed.
Odors and chemical vapors can come from many different sources inside and outside the home. Once inside the home, these pollutants circulate through the ductwork, entering every room and living space. Using innovative air-purification technology, the PureAir System helps remove the hundreds of odors/chemical vapors that can contaminate your home's air.
Unmatched cleaning power of the PureAir™ system, compared to other technologies